7 Online Loan Scams, This is Characteristic
Online Loan Scams, This is Characteristic – In today's online era, of course, it's easier for us to reach the things we want to do. We can access everything from shopping to transportation needs online.
Well, what's even cooler is that now you can get a loan online if you need it at any time. I'm sure you already know what kind of service that is, right?
Yes, it is true that online lending or lending services exist in fintech p2p lending, only with a mobile phone you can already feel the benefits of financing or credit from online lending platforms.
The convenience of the services provided is an advantage for the community to be more flexible, you don't have to bother coming somewhere, just stay at home, and you can get loan funds online to meet your needs, you know!
Online Loan Scams, This is Characteristic
It is this convenience that makes not a few irresponsible people or groups take advantage of these conditions by committing fraud under the guise of a loan.
The smart thing for them is to hook their victims not only via telephone or SMS but also use the social media that is most widely used by the public, namely Facebook and Instagram.
They do it in various ways, from tempting seduction to short messages on social media, WhatsApp, and the telephone is their main weapon. Even though the Financial Services Authority (OJK) has advised not to believe this offer easily until now there are still people who report that their money is missing and the perpetrators have fled.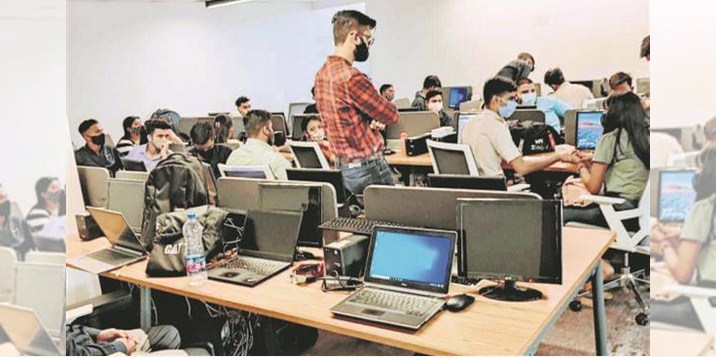 If you need a fast liquid loan, stay alert so you don't become the next victim of fraud. For that, identify and remember the following characteristics of the loan fraud mode on social media.
There are attractive product offers
To apply for a loan of some funds, usually, the borrower will do it through a website or application provided by the organizer. In fact, almost all processes are carried out on both media.
Unless you want to ask for more complete information about the loan services offered, then you will contact the intended borrower and the borrower will only provide answers to the questions that are clearly stated.
Unlike the case with fake loans on social media. They offer liquid fast fund products via short messages on social media accounts to a telephone. In this offer, the lender did not provide a detailed explanation of the loan product and all that was conveyed were sweet promises. When following up they will force the prospective borrower to agree to the offer.
Tips: be careful with unknown numbers and don't be easily tempted by lures that aren't necessarily profitable. Remember, official or legal lenders only offer their loan products in the right way, as the information provided is clear and certainly never pushy.
Not Using Mandatory Requirements
This p2p lending loan opens access for those who need funds but cannot access banking services but are entitled to credit. Even so, it does not mean that prospective customers can freely access loans just like that because there are still conditions set by the loan provider.
This is what often makes prospective borrowers feel afraid because there are requirements that they cannot fulfill. That way, fake loans appear on social media that offer fast disbursement of funds with no strings attached or only submit a telephone number that can be contacted and a personal name.
Tips: before applying for a loan, make sure the requirements are clear, starting from personal identification such as an ID card and tax to the process of checking credit history through checking Bank. Most importantly, all requirements input processes are only carried out via the website or application, not via text messages.
Request deposit money
"I am the one who wants to borrow money, but I am the one who has borrowed a few rupees." Please note that each borrower will in fact ask the prospective borrower for money for administrative costs which will then be used for stamp duty and other purposes only. Even that is not worth the money.
The lender will also ask you for money, but the difference is that in very high amounts he can become a millionaire, depending on the amount of the loan to present. For example, he needs Rs 50 crore-Rs 100 crores in funds, so the down payment can be more than Rs 1 crore, and so on.
They reasoned that the money was used as a down payment so that the necessary funds would be disbursed quickly. Due to the need for a large number of funds, without a second thought, potential borrowers will be willing to issue the down payment so that the necessary funds are disbursed quickly.
Tips: do not rush to apply for a loan without certainty. Pay attention in advance to the question of the enforced down payment. Don't let yourself regret that a shady loan shark has taken several millions of money.
Invalid Loan Provider Information
The integrity of a company's identity information is the most important and primary thing to pay attention to. Because complete information is a benchmark for society when assessing whether a company is official or not. In general, this information will be included on the website, as well as on all social networks used.
Meanwhile, in fraudulent loans, either the owners or their employees, try to cover up company information. If anything, they are simply providing false information. For example, the indicated address is not clear, a phone number is used for a cell phone, a personal email (Gmail or yahoo) is used, etc.
Tips: There is nothing wrong with ensuring the accuracy of the company's identity. Take a look at the business address on Google maps, and make sure the phone number used is official and the email used represents the business name.
Request for personal information
In general, in order to obtain complete data on prospective borrowers, legal borrowers only request information about the borrower's name, active phone number, and email address. The requested bank account is also for checking credit history and disbursing funds.
On the other hand, fraudulent borrowers will mislead their customers by claiming that in order for funds to be disbursed quickly, the borrower must provide other personal information, such as a bank PIN or password.
Tips: If you don't want to lose money in your account, then don't give your bank pin or password to anyone for any reason. Remember, the bank will never ask you for the pin or password.
Payment of Bills to Personal Accounts or Electronic Money
All lending activities are legal only through an app or website. From the presentation, the filling of data, and the entry of the required documents to the billing information (invoice amount, expiration date, and company account).
So, if someone contacts you via text message on social media, WhatsApp, calls on behalf of the borrower and requests loan account information, or requests bill payments through an account in their name personal or through other types of payment, should not be taken seriously. Because this is one of the forms of fraud that fake loans carry out.
Tips: Legal loan providers will never request payment to a personal account or electronic/digital money wallet and you should also ensure that you make bill payments according to the information on the app or website.
Unprofessional display on social media
Another feature of fake loans that can be easily recognized is by looking at their screen on social media, be it Facebook or Instagram. All loan officers, of course, have a special team that manages their social networks to make them look neat, attractive, and professional.
This is clearly different from fake loan social networks. Of course, the social media screen is messy, and the pictures are broken, in fact, most of them are just taking other online loan posts and reposting them on their social media.
Tips: Pay close attention to the social networks that the borrower uses as a whole. In addition to the concept, and the neat arrangement of posts, you can also check
Online Loan Scammers will contact anyone without exception because they randomize phone numbers. We often find online loan scammers through social media in advertisements and groups that discuss finance.