6 Tips For Buying A House With Cash And Credit, Cheap Without Dispute
Tips For Buying A House With Cash And Credit – Apart from being a primary need, most people believe that buying a house can of course be an investment. Because its value will continue to increase every year.
Reporting from CNBC Indonesia, the survey shows that 75% of millennials buy houses for investment, you know. You can also buy a house not only to live in but also as a way to earn a side income.
The purchased house can be rented out, used as a boarding house, or an inn. However, of course, it takes a fairly large initial cost to build a decent house to live in or for business.
Buying a house close to the office can be a good consideration. If you can find a potential home located close to your office, it's better to buy a house in advance than a car.
How to Buy a House With Cash And Credit, Follow the steps to buy a house
With a short distance, of course, transportation is cheaper. Low transportation costs mean you don't have to rush to buy a car and you can save money on a home mortgage.
In addition, the energy expended each day to go to and home becomes less, so you are not too tired while working. This can be very valuable, even if it cannot be measured to a certain value.
If you plan to buy a house on credit, of course, you have to commit in the long term. Well, then, this decision should be taken after carefully considering your career as well.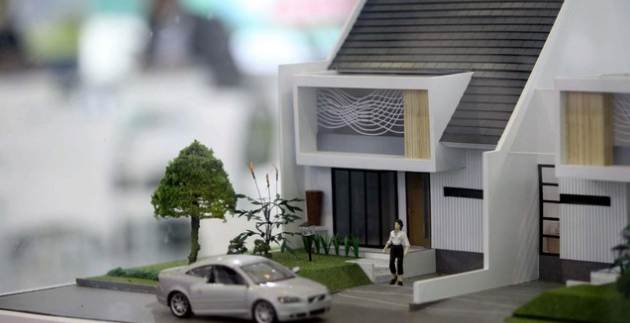 Since it takes so long, you should be determined to stay somewhere and work in the city until your mortgage is done. If you're not ready for this commitment, it's best to put off your plans to buy a house, or you might consider buying a car instead.
Home Buying Tips
Having a residence in housing can be an option. This is because houses in residential areas usually already provide supporting facilities so that prospective buyers can immediately move and occupy.
But it's a good idea to ask the developer important things before actually deciding to buy a house in that place. Here are the mandatory questions that must be asked:
1. Permission
That legality is the first question that must be asked of the developer. This is because it will affect the buying process in the future.
2. Certificate
Also, ask the developer how the sale and purchase certificate (AJB) of the house will be. Including asking for a certificate of ownership so don't get me wrong.
3. Key Handover
This question is also very important to ask. For houses that are ready stock, you can ask when they can be occupied immediately. Then for the pivot house, which usually has to wait several months, you can ask how long the construction process will take if the construction exceeds the promised target, what compensation will you get, when can you hand over the keys and the electrical installation process. . should also be asked.
4. Building Specifications
Prospective consumers can also ask the developer what building specifications are used to build the house. You can also ask the developer for a survey about the development project that is being worked on. In addition, don't forget to ask about the land area, environmental conditions, public facilities, and graves.
5. How to Buy
How to buy a house can also be directly asked. Does the developer provide a mortgage payment scheme, in cash, to cash in stages? Ask which bank facilitates credit at the developer. With this bank collaboration, prospective customers also check the credibility of the developer to the bank.
6. Extra Fee
Additional costs are very important to know. Sometimes there are developers who write down the standard price of a house but do not include additional costs that consumers must pay in the future.
So it's a good idea to make sure in advance how much additional costs you have to spend so that the money can be prepared and in the future, it becomes more comfortable.
In addition to additional costs, developers also often give gifts to potential customers. Such as AC units, and installation of canopies to cash back. This is also important and should be asked.
Steps to Buying a House
Before buying a house, you must be absolutely sure that it is your choice. But with so many options out there, how do you find the perfect home?
Finding the right home requires research, so you have to ask the right questions. That way you know you're making a competitive offer for a home you can afford and meet your long-term needs.
Here are 15 Questions to Ask When Buying a Home
What is our Total Budget?
Understanding the total budget that we have will determine how much the house price you can afford. There are additional costs to consider in addition to the selling price, such as property taxes, homeowners insurance, homeowners association dues, ongoing home maintenance, and any renovations you may wish to undertake. This additional cost means you may not see any financial benefits for the next few years.
Is the location of the house in a flooded area or prone to other natural disasters?
Properties located in flood zones or other natural disaster areas may require additional insurance coverage. Find as much information as possible about the condition of the home environment during the rainy season or have experienced other natural disasters. Similarly, if you are buying a house that has frequent earthquakes, you may need to get earthquake insurance.
The reason why the house was sold?
Understanding the reasons why homeowners make sales – whether it's because of a company downsizing, a job relocation, or as a result of a major life event – ​​can help you figure out how motivated they are when negotiating.
A good buyer's agent will try to find out this information for you and gauge how flexible (or not) the seller is during negotiations. A motivated seller who needs to move quickly or whose home has been on the market for a long time is more likely to work with you than someone who isn't in a rush to sell.
What's Included in the Sale?
Anything that counts as fixtures is usually included when buying a home – such as cabinets, faucets, and window blinds. However, there may be items that you think belong in your home but don't. The listing description should mention exceptions that the seller doesn't include, but that's not always the case.
Be sure to ask in your offer what is and is not included in the house. Do you really want a washer and dryer, or a stainless steel fridge? Ask if the seller will include these items in the deal.
Are There Any Major Additions or Renovations?
In some cases, property records and ad descriptions don't always match. A house may be advertised as having four bedrooms, but one of those rooms may be an inappropriate addition.
Find out what major repairs or renovations the seller has made since owning the home, and ask for the original manufacturer's warranty on any equipment or systems if they have been replaced. Knowing your home's repair history can help you better gauge its condition and understand the seller's asking price.
How old is the roof?
That roof is always needed and expensive. If your roof is at the end of its life and you end up having to replace it immediately after moving, you are spending a lot of money. If the roof is damaged, your lender can repair it to approve your loan. In other words, if the listing description doesn't list the age of the roof, be sure to find out as early as possible.
How Old Is The Main Equipment And System?
Again, understanding the expected life of critical systems and appliances, such as air conditioners, stoves, water heaters, washing machines, dryers, and stoves, can help you anticipate large repair or replacement costs. If these items are at or near the end of their useful life, ask the seller for a home warranty, which can help cover replacement costs in certain cases.
How long has the house been on the market?
The longer a house is on offer and has not been sold, the more motivated the seller will be to make a deal. This means you may find flexibility in negotiating prices, terms, and requests to repair worn walls or other glaring issues.
Often, a house will be left on the market if the starting price is too high, requiring some price cuts. A listing that shows several discounts and has been on the market for too long can give the buyer the impression that something is wrong with the home. And it gives you the opportunity to negotiate certain deals.
What is the selling price of a house in the neighborhood?
Understanding the current local market will help you determine whether the seller's asking price is right or too high from the market price. Your real estate agent can pull comparable listing data for similar homes that are currently on the market and have been sold in the last six months or so as a basis for comparison.
Are There Health or Safety Hazards?
Materials such as lead paint, asbestos, mold, or other hazardous materials can be expensive to handle. Ask the seller to provide documentation of previous problems and find out what was done to resolve the issue. If you suspect a dangerous problem or your home inspector recommends additional testing, you may need to pay extra for the special service.
What is the History of Insurance Claims in the Past?
Get a report from the seller to see if any homeowners insurance claims have been filed in the last seven years. This report can give you insight into any damage to your home due to weather events or damage that wasn't visible at the time of the home inspection or the seller didn't mention it.
What's the Environment Like?
Getting a real feel of an environment can be difficult to get a feel for before we move there ourselves, but this aspect should not be overlooked. Ask the seller what the environment is like. Noisy or quiet? Is this a pet friendly place or are there a few pets around?
Are the neighbors friendly or perhaps indifferent? Don't rely solely on the seller to reveal these details as you may not get the full story. Talk to the seller's neighbors. Neighbors are a great way to get information that sellers may not provide.
How is the Environment?
You can always change the house and fix the things you don't like, but the environment will still be there. It is important that you like the environment in which you live for the next 10, 20 or 30 years. Your real estate agent can help you find important information, such as community amenities, crime statistics, school ratings, and how busy the traffic is where you will live.
Fortunately, the internet is also a great resource where you can research schools, homeowners association rules (if any), nearby parks, and other amenities. And don't forget to time your trips to the office – which might cancel the deal.
Are There Problems With The Home?
Ask the seller to provide a note listing every known defect in the home, but what they don't tell and don't know can cause big problems later on. That's why it's so important to have a home inspection done by a professional home inspector as soon as the purchase agreement is signed.
The inspection report outlines the overall condition of the home and can help you negotiate future concessions, such as repairs or seller-paid credit, before closing the deal. If the house has too many issues and conditions are beyond your reach, you can still withdraw from the deal without penalty and (in most cases) a refund of your original deposit.
How Much Will I Pay The Purchase Fee?
A down payment isn't the only cash you'll pay at the time of payment. You will also be responsible for the purchase fee, which usually includes the initial borrowing fee and third-party fees for document research, document processing, assessment, and other administrative tasks. Assume it costs around 2% to 5% of the home purchase price in purchase costs, but that can vary depending on your area.
The purchase agreement, which requires the lender to give you three business days before payment, will outline all the costs of your loan and how much cash you will have to spend.
After the deed of sale is signed by both parties and the notary sends it to the lender, the lender will fund the loan. So now you are legally the owner of the house.
That's how to buy a house with cash and cash, follow the steps to buy a house above so that your life is comfortable without disputes.