Blue Fire Phenomenon On Ijen Crater Bondowoso, Indonesia is Amazing
Blue fire – Mount Ijen or better known as Ijen Crater is one of the mountains that is still active today. It has an altitude of 2,443 meters above sea level with a lake depth of 200 meters and a crater area of ​​5,466 hectares, walled caldera as high as 300-500 m, and has erupted 4 times in 1796, 1817, 1913, 1936 and 1999.
The Ijen Crater and blue fire areas are located in three districts. namely Situbondo, Bondowoso, and Banyuwangi. From Ijen Crater we can see views of other mountains in the Ijen Mountains complex, including the peak of Mount Merapi which is to the east of Ijen Crater, Mount Raung, Mount Suket, Mount Rante, and so on.
Ijen Crater is the center of the largest crater lake in the world which is capable of producing 36 million cubic meters of sulfur and hydrogen chloride with an area of ​​approximately 5,466 hectares.
This dangerous crater has extraordinary beauty with a sulfur lake turquoise with a dramatic and elegant touch. Lake Ijen has zero acidity and is 200 meters deep. Its very strong acidity can dissolve human clothes and fingers, Ijen Crater is the largest very acidic water lake in the world.
"The charm of the beauty of Ijen Crater and blue fire is the large lake that is bluish-green and the Blue Fire phenomenon that radiates at night.
Ijen Crater from the top of Mount Ijen looks very beautiful.
Blue Fire, The Extraordinary View On The Top of Mount Ijen
This crater is a large lake with a bluish-green color and smoke and sulfur fog. Cold air with a temperature of 10 degrees Celsius, can even reach a temperature of 2 degrees Celsius, will add to its own sensation.
You can also find various plants that only exist in the highlands, such as the Edelweiss Flower and the Mountain Pine.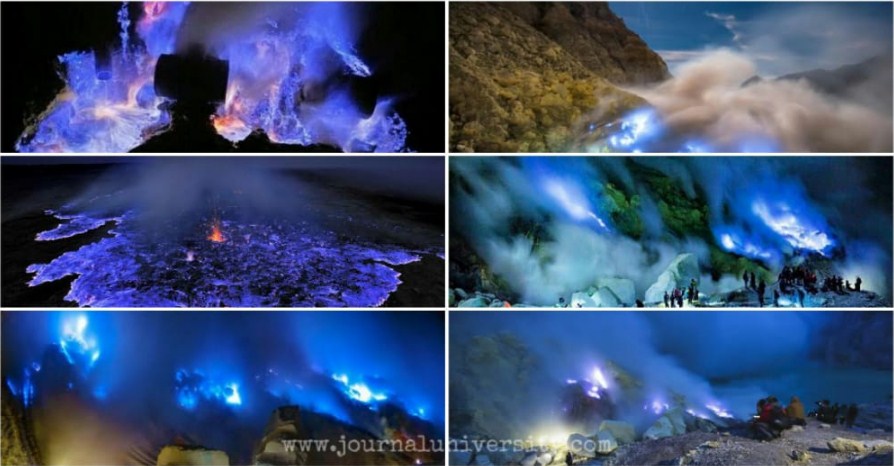 In the morning, when the sun begins to shine on the Ijen Crater area, you can enjoy a beautiful view. Ijen Crater which is bluish-green will be added with golden sun rays that are reflected in the crater.
Around the slopes of the crater lies the Manisrejo tree with reddish leaves, while the rocks on the crater wall are colored with yellowish sulfur, this condition makes the natural panorama here so memorable to enjoy. There are ± 15,000 foreign tourists who come to Ijen crater in one year. tourist arrivals and visits from July to September.
6 Other Interesting Things When Traveling to Ijen Crater and Blue Fire
The following are some interesting things that might make you curious and want to travel to Ijen Crater. These are as follows.
Blue Fire Phenomenon
In addition, another natural phenomenon in Ijen Crater that should not be missed is the Blue Fire which appears in the middle of sulfur mining which can only be witnessed at night until early morning.
Every morning around 02.00 to 04.00, around the crater you can find the Ijen crater and blue fire phenomena which are the uniqueness of this place, because this natural landscape only occurs in two places in the world, namely Iceland and Ijen.
The First Sunrise View in Java
Seeing Sunrise is the next interesting thing after you see the blue fire phenomenon. You need to know that Ijen Crater is one of the highest mountains in East East Java, so you are a very lucky person, because Ijen Crater is a place to see a beautiful sunrise and is the first sunrise seen in East Java.
Traditional Sulfur Miners
In this volcanic area there are sulfur mines which indicate that the mountain is still active. The existence of traditional sulfur miners is a concern of visitors in the Ijen Crater area.
They bravely approached the lake to dig up sulfur with simple tools and then carried it in a basket. These sulfur miners take sulfur from the bottom of the crater.
Here the smoke is quite dense, but with a basic nose cover like a sarong it's still looking for molten sulfur. Melted sulfur is obtained from pipes leading to sources of volcanic gases containing sulfur.
This gas is passed through a pipe and then comes out in the form of liquid red sulfur. After the yellow sulfur freezes.
After the sulfur is cut, the miners will transport it by carrying it through a path. The load carried is quite heavy, between 70 kg to 100 kg. Miners are accustomed to carrying this heavy load while following a steep caldera trail down mountains for 3 kilometers.
Miky Way at the top of the Ijen crater
Milky Way – or in Indonesian we call it the Milky Way – comes from the Latin Via Lactea or Greek Galaxias which means "milk". The Milky Way is a spiral galaxy that has 200-400 billion stars with a diameter of 100,000 light years and a thickness of 1000 light years.
In this Milky Way galaxy there is the Solar System, which contains the planet Earth. This Milky Way galaxy looks like a band of white luminous fog that stretches across the space ball.
This brilliant band of fog or "aura" is a collection of millions of stars and massive amounts of dust and gas that lie in the plane of the galaxy. The position of the Milky Way appears to be in the southern hemisphere.
If you want to see the Milky Way, the best time to see it is in the range of April – August to be precise in the dry season. On a clear night, the Milky Way can be seen with the naked eye. The Milky Way is difficult to see in big cities because of the large amount of light pollution.
View of Ijen Crater Arabica Coffee Plantation
If you take a trip to the Ijen crater before arriving at the Ijen crater tourist area, you will pass through the Dutch heritage coffee plantation area. Jampit Coffee Plantation, is an agro-tourism in Bondowoso managed by PTP Nusantara VII Kalista Jampit.
This plantation is located 74 km to the east of Bondowoso Regency. This plantation has an area of ​​4,000 hectares and is located at an altitude of 900 M above sea level. Coffee plantation is a garden with Arabica coffee cultivation.
The highland Arabica coffee of the Ijen crater is known to foreign countries as Javanese coffee. This coffee is very dense with a bitter and sour taste, in contrast to Robusta coffee which only tastes bitter.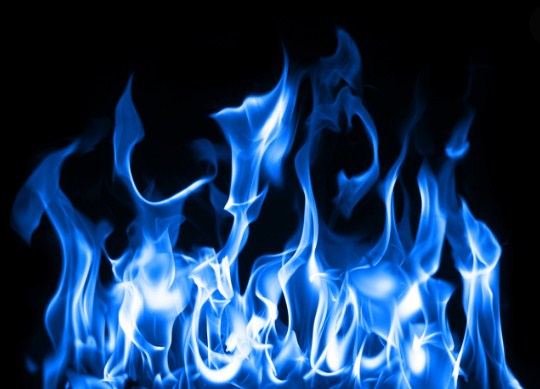 For the coffee harvest season from May to September. During the coffee harvest season, local and foreign tourists can pick their own coffee and watch the processing.
International Tourism de Bondowoso Ijen
Tour de Ijen is the official bicycle racing championship of the International Cycling Association (Union Cycliste International) which is held annually in Banyuwangi.
The championship, which was first held in 2012, is a long-distance road race which is generally held around November to December and lasts 4 days.
As the name implies, Ijen, which is a mountain that has a beautiful crater and the phenomenon of blue fire (blue fire) at night, is part of its trajectory. In addition, Red Island is also part of the racing track.
Those are 6 other interesting things that you can find when traveling to the Ijen crater apart from seeing the lake in the Ijen crater so that you don't feel lost when traveling to the Ijen crater because there are many other things you can find there.
The path to Ijen Crater and blue fire
To reach Ijen Crater and blue fire there are two main routes, namely from the direction of Banyuwangi and Bondowoso.
Ticket
The blue fire tourism entrance ticket is only Rp.5,000 for Indonesian citizens and Rp.100,000 for citizens of other countries. This admission price also goes to the top of the Ijen crater with a variety of beautiful views.
Travel route from Bondowoso
Bondowoso City > Sempol > Pal Tuding> Ijen crater and blue fire attractions
If using public transportation, from the city of Banyuwangi we go to the Bondowoso terminal. From here we change to a minibus heading for Sempol.
The main gate to the Ijen Crater Park Nature Reserve is located in Paltuding which is also a PHPA (Forest Protection and Nature Conservation) Post. The go-to route is Bondowoso – Wonosari – Tapen – Sempol – Paltuding.
Other facilities that visitors can enjoy include tourist huts and food stalls that sell climbing needs to witness the beauty of the Ijen crater. From Paltuding, walk about 3 km.
The 1.5 km start track is quite heavy because it is uphill. Most of the trails are at a slope of 25-35 degrees. In addition to climbing, the soil structure is also sandy so that the footsteps are getting heavier because they have to hold the load so they don't slide backward.
After resting at Pos Bunder (a unique post because it is circular in shape), the next route is relatively sloping, besides that tourists/climbers are treated to a very beautiful view of a series of mountains.
To go down to the Ijen crater and blue fire, you have to cross a rocky terrain as far as 250 meters with steep conditions.
This is the story of the beautiful blue fire phenomenon that can fill your long holiday. Come on a trip to the city of Bondowoso Indonesia, there are many other interesting tours that you must visit with cheap tour packages in your city.